Briefing: 26 September 2017
Future Ready Shipping Conference sees the expansion of the GloMEEP GIA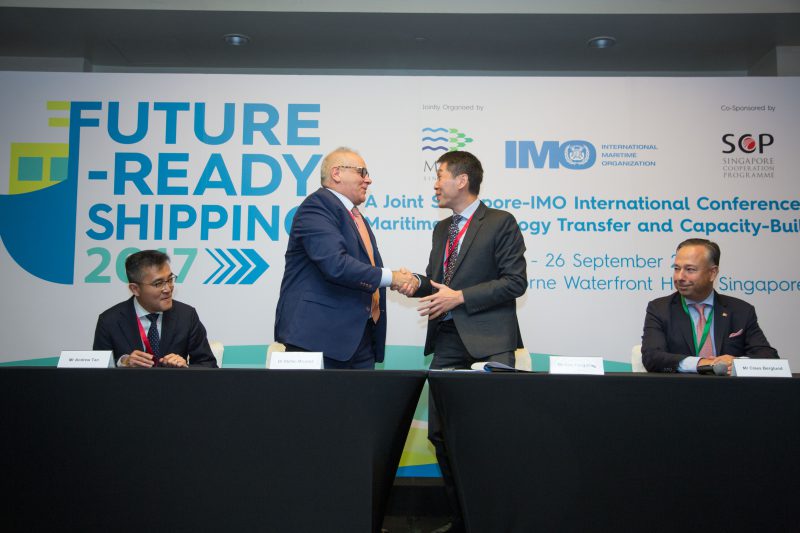 The Future-Ready Shipping Conference 2017, held from 25 to 26 September in Singapore, witnessed the expansion of the GloMEEP Global Industry Alliance to Support Low Carbon Shipping (GIA). The Conference welcomed two new members to the GIA: Bureau Veritas and the Port of Rotterdam.
Philippe Donche-Gay, President Marine & Offshore, Bureau Veritas said that he was delighted BV was able to provide support to the GIA: 'Whether it's a better understanding of hull structures, digitalization, gas fueled and hybrid systems or the many other areas of research and development that are leading to practical solutions, our Marine & Offshore Division – and the 70,000 Bureau Veritas people around the world (10,000 in China alone) across our group – will be able to contribute towards this important initiative.'
In a video message to the Conference, Ben van Scherpenzeel, Director of Nautical Developments, Policy and Plans, Port of Rotterdam, expressed the Port of Rotterdam's commitment to the GIA: 'The Port of Rotterdam sees the GIA as a very important initiative to address emissions from the maritime industry. We have already started working together with shipping lines, terminals, and ports to reduce emissions and we are happy to bring this experience to the table.'
The GloMEEP Global Industry Alliance currently has 16 members committed to supporting the uptake of energy efficiency measures and transitioning to a low carbon maritime transport system.
---
The Future-Ready Shipping Conference 2017, a joint IMO-Singapore Conference on Maritime Technology Transfer and Capacity-Building brought together 250 maritime leaders from across the world with a view to catalyze information exchange and discuss how new and existing technologies can help to facilitate international shipping's move to a more energy-efficient and low-carbon future.